Odessa
LOGLINE
A desperate mother is forced to make a perilous border crossing to save her child's life.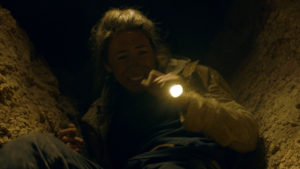 SYNOPSIS
(Warning: Spoilers).  In a post-apocalyptic, oil-starved future, an American woman (Estrella played by Grace Santos) hires a guide known as a "dowser" (Victor played by Ricky Wayne) to coyote her across the border and through the desert on horseback to a town where stockpiles of the gasoline she desperately needs can be found.  If caught, the two will be shot on sight, but they manage to dodge the heavily-armed border patrol and steal twenty gallons of fuel before heading back to the U.S.  When her guide is shot by a border patrol sniper at the fence, we discover that the country they've been in isn't Mexico, but the sovereign nation of Texas, which has seceded from the union with a monopoly of the mainland's oil reserves, and after Estrella barely manages to escape on her own through a smuggler's tunnel (though now with only half the gasoline she came for), we learn that she needed the fuel not for a vehicle, but for a generator that powers the medical equipment which keeps her gravely ill child alive.
TECH NOTES
Total Running Time: 13 minutes 20 seconds (including credits)
Camera: Shot on an Arri Alexa
Formats available for screenings: DCP, HDCAM, DVD, Blu-ray Disc
Shooting Locations: border of Unites States and Mexico in Texas and New Mexico
Completion Date: January 2015
WHAT OTHERS ARE SAYING

"Odessa Makes You Think and Feel." – Richard Propes, The Independent Critic (http://www.theindependentcritic.com/odessa)
Odessa "has a post apocalyptic beauty that can only be rivaled by films like THE ROVER, THE ROAD and of course the MAD MAX franchise." "Not only do I want to see more of ODESSA I feel that this could be the type of show that could change our way of thought in the future." – Travis Brown, Horror Movies Uncut (https://horrormoviesuncut.com/2015/05/01/sci-fi-short-odessa-takes-home-grand-jury-prize-at-gasparilla-international-film-festival/)
"This taut, gripping, short film horrified me more for its relevant, real-word authenticity …" – Damsals With Chainsaws (https://damselswithchainsaws.wordpress.com/2015/04/29/odessa-short-film-review/)
"Two very talented main actors take the lead and set the tone for one of the best short films I've seen in a while, both Ricky Wayne and Grace Santos work well together and are two fascinating actors to watch." – The Scream Review (https://thescreamreview.wordpress.com/2015/05/22/review-odessa-2015/)
"Aside from its crisp production value, Odessa – a short film mind you – accomplished what the majority of today's features lack: It made me think, feel, and most importantly, want to explore more of the world the filmmakers and actors created", says Joe Belcastro of the Florida Film Critics Circle and the Southeastern Film Critics Association, a member of the Gasparilla International Film Festival 2015 Grand Jury. (http://www.themovienetwork.com/press/producers-tricky-treat-comes-new-post-apocalyptic-sci-fi-award-winning-film-odessa)
FILM FESTIVALS
Cannes Film Festival Short Corner, Cannes, France
Savannah Film Festival, Savannah, Georgia – Official Selection
Hollyshorts, Hollywood, California – Official Selection
Gasparilla International Film Festival, Tampa, Florida – Official Selection and Grand Jury Award for Best Short Film
Louisville International Film Festival, Louisville, Kentucky – Official Selection
Worldfest, Houston, Texas – Remi Winner
Plaza Classic, El Paso, Texas
Wasteland Film Festival, California City, California – Official Selection
Santa Fe Film Festival, Santa Fe, New Mexico – Official Selection and Winner of Best SciFi Short
DIRECTOR'S STATEMENT
While developing a very similar project in Canada, based not in Texas, but in the far reaches of the north, Odessa was forwarded to me. I was not only struck by the quality of writing and brilliant economy of the short story, I was struck by the tangibility of the premise.  The world of the script isn't a post-apocalypse crawling with zombies or hordes of punk rock gangs; it is a vision of the near-future that is entirely possible and all too real.  This was a story to tell.
In addition to the premise, I was really drawn to fact that the protagonist was female, which seems to be rare in the history of this genre.  It wasn't a female substituted in a male role either, as she has genuine motivations and female attributes.
Odessa is many things, a western, an apocalyptic near future sci-fi, a road story, a chase film, and ultimately a family drama.  I embraced the many things it was and melded the choices.  Some moments intentionally harkens epic cinema, other moments have a far grittier documentary inspired approach.  The choices were intended to bring the best out of scenarios, framing the dusty West Texan landscapes in an visually impactful way, while lending a more on the fly approach to acting moments with the purpose of enhancing realism and believability.
In my view the blend of contrasting styles, in combination with edit pace, score, and creative sound design, works to sustain tension and create energy when necessary and tension is a key factor in the film, as is the feeling of release in the end. Ultimately, I was hoping the blend of style choices and inspirations would create a modern sort of film language, one with an eye on the past and one looking keenly to the future.
DIRECTOR'S VISUAL STYLE GUIDE
STORYBOARDS
PRODUCTION NOTES
THE DIRECTOR
Q: Why did you approach Sean Michael Turrell to direct?
A by Actor/Producer Grace Santos:  When I moved from Florida to California, I drove along the US-Mexican border and fell in love with the landscape (I even ended up exploring New Mexico for 4 days instead of just driving through).  I knew "Odessa" would need a director with a great visual style that could capture this beauty.  A couple weeks after I found the script, I attended the Palm Springs International ShortsFest because one of my films was screening there.  There, I watched Sean's film "Follow", which lead me to do more internet research on Sean and I came across many of his music videos.  After seeing his short film and music videos, and after meeting him in person at one of the festival parties, I knew he would be perfect to direct "Odessa".  Then I had to figure out how to convince him to work on an ultra low budget production and with me (someone with few credits).  Again I thank Doug for writing a great script to attract a great director.
THE SCRIPT
Q: How did you come up with this script?
A by Writer Doug Johnson:  Odessa was written as an exercise through Trigger Street Labs, which is an online community of writers and filmmakers created by Kevin Spacey and producer Dana Brunetti. The writing side of the platform is geared toward features, but once in a while a group will get together and write short scripts that are variations on a theme. This particular anthology was organized by a Welsh writer named David Brough, and the only story criteria were that the script be no more than eight pages, and that it contained a major plot twist that was completely unexpected.  The story world for Odessa was something I'd been mulling over for about a year, but hadn't come up with a hundred-page storyline that excited me enough to commit to paper. When David told me about his idea, it seemed like the perfect excuse to get off my ass and do somethi
ng with that story world. I had no idea where the script would go or who the characters were, just a goal and an obstacle to it. The result was nothing like what I'd thought it would be. I started off writing an action script, but by the time I reached Fade Out, I'd written a drama. Our very sharp producer Grace Santos read the script and opened my eyes to the fact that the post-apocalyptic world of Odessa was the ideal context for a series of overlapping vignettes, and we're hard at work developing those stories now.
Q: Why did you choose this script to produce?
A by Actor/Producer Grace Santos:  I did not meet Doug in person until the day before the shoot, as he lives in New York and I live in Los Angeles – technology is amazing.  I've produced 21 plays and 6 shorts and have been searching for high quality material to finally jump into features and series.  I stumbled across the logline for "Odessa" on InkTip.com and initially thought about passing because the description said it was only a 10 page script.  But the simple logline compelled me to contact Doug to obtain the full script.
I fell in love with the story immediately because of the character of Estrella.  Estrella is multidimensional and those are the roles I'm looking for as an actress.  I wouldn't be believable as a character like Lara Croft, a hot tough chick.  I'm a mother and can identify with moving way beyond my comfort zone and making sacrifices for my child.
Also, the script delivered a compelling, personal drama that touched on the issues of border security and immigration.  Around the same time that I found "Odessa" in June 2013, a university study was released analyzing the trends and demographics of 2,238 people who died in south central Arizona from 1990 to 2012 after crossing the border illegally.  The study made an observation that stuck with me while reading "Odessa", and comes up again and again in the debates and the news:  "
We're missing the point. The answers don't lie in border security. The answers lie in understanding the economics [that drive migration.]".  Most of my past projects have touched on a political or social issue.  I'm drawn to those issues – I studied religious studies and law even though I was already a member of AEA and SAG.  I also named my production company Ethos because "character" means more than just an individual, but is also used to describe the guiding beliefs or ideals that characterize a community, nation, or ideology.  I look for character driven works and also works that analyze how relationships between characters mime society and society's ideas.
Furthermore, the way Doug set up the story-world generates endless possibilities for the development of more characters and dramatic storylines. So I am "forcing" Doug to continue to work with me to develop "Odessa" into a bigger work.  In summary, the script hit so many of my sides and goals: compelling story, great characters, foundation for a series, personal acting goals, my socio-political side, beauty, and so much!  I can't believe I convinced Doug to work with me!
THE PRODUCERS
Q: Why did you approach Andrew Shebay to produce?
A by Actor/Producer Grace Santos:  There is something about June of 2013:  I found the script, the university study about border security was released, and I attended the Palm Springs International ShortsFest where I met Sean and Andrew.  Andrew told me that he was a Texas based producer, so I mentioned how I'm trying to produce "Odessa" but am not sure if I will be able to film it in Texas (even though the setting is Texas) because of costs.  After the festival we kept in touch and he messaged me once in a while about how great it is to film in Texas and how he knows filming in Texas would be way cheaper than filming in Los Angeles.  He has a pretty enthusiastic personality … everyone has to meet him.  He obtained almost half of the budget, found all the locations, coordinated the production design with Richard and Doug, and fed the cast and crew yummy food!  "Odessa" would not have been made without his charismatic personality pushing everyone along.
Q: Why did you approach David Moscow? 
A by Actor/Producer Grace Santos:  I met him way before June 2013.  We met on set on a 2007 production.  I "made" him become my go-to person for business advice.  He has been in the business for many many years as both an actor and producer and he also has a similar political side to me.  He has such a wonderful personality.
Q: The writer, Doug Johnson, is also a producer? 
A by Actor/Producer Grace Santos:  I hit the jack pot with Doug.  He is not only a writer.  He has worked in post-production for over a decade, passion for story, photoshop/graphic design skills, and makes fake weapons that look so real on the screen.  I didn't know these things about him when I found his script because his website only advertises himself as a writer.  I have discovered these things little by little through emailing and skyping during the development of the short and series.  I told him he is going to end up being a leading showrunner.  Just wait and you all will see.
THE CAST
Question: What were the character descriptions posted during the
casting process?
VICTOR (Lead): Male, age 35-45, Hispanic, coyote with a heart, the man who can find you what you need on the far side of the border fence and will get you there and back for a price. A scavenger and survivor, a resourceful scrapper and pragmatist whose weakness is empathy.
SAM (Lead): Male, age 30-40, any ethnicity, tough but smart and caring father/husband who lost his livelihood as a trucker/mechanic when the nation's oil supplies were cut off.  Now struggling with inability to provide for his family.
ELIAS (Supporting): Male, age 6-8 (to play 6), Mixed Race son of Sam (breakdown above) and Estrella (Hispanic mother).  Serious illness keeps him bed-ridden but remains eternally optimistic. The portrait of innocence with a face that lights up a screen. One page part, but an important dramatic role in final scene of the film / first episode.
Question: How did you get the Cast?
A by Actor/Producer Grace Santos:  Both Ricky Wayne (The Walking Dead, House of Bones) and Will Haze (Banshee, One Tree Hill) have over fifty credits each in film and television, but I actually met them in Tampa, Florida, not Los Angeles.  We attended the Performers Studio Workshop in which Kathy Laughlin CSA taught the Eric Morris Method of Acting.  I sent
Sean their acting reels and Sean said they are absolutely perfect for the roles.  I feel really blessed that Ricky and Will took the time to fly into Texas for this project when they definitely do not need to add to their credits or acting reels.  They are very talented and giving people.  I cannot say enough about them.  I met Anthony Escobar (Prison Break) through the El Paso Film Commission.  He was accidentally listed as an Assistant Director instead of an actor and I am happy for the mistake.  He knows everything about El Paso filmmaking (the local actors, crew, locations) and was so giving without asking for anything in return.  When I did internet research on him (yes, it appears that I perform a google search on everyone prior to doing business with them), I came across his acting reel.  He is talented so I a
sked Doug to write a role for him.  We met Manny Rubio and Isa Rubio through Anthony.  Our original cast member for the role of Elias booked a bigger project so could no longer work on "Odessa".  Manny was already working with us and when the casting issue happened at the last minute, we were more than happy to find out that Manny had the cutest actress daughter and it worked perfectly to change the role of the son into a daughter.
THE CREW
Question: What was your experience working with the crew?
A by Actor/Producer Grace Santos:  Crewing up was difficult since I did not know anyone in
El Paso.  I knew some people in other cities but didn't realize that Austin was 8 hours away and Dallas was 12 hours away – gosh Texas is a large state!  I first did some internet research to try to find a local El Paso production company that would like to co-produce the film with my company.  When that fell through, I posted ads on the Texas Film Commission website and Craig's List in El Paso, TX and Las Cruces, NM, and I started calling people in the directory of the El Paso Film Commission.
Our Cinematographer, Stephen, flew in from Toronto with Sean.  They worked together on a series
in which they had to move around from city to city.  I joke around that I hired Stephen because I saw Keith Urban on his website.
I found the Art Director Richard Glass through the El Paso County Film Commission directory.  We bonded over the phone because of our love of the stage/theater.
The Costume Designer, Jennifer, contacted me when she saw my post on the Texas Film Commission site.  When I saw that she designed for Director Griff Furst, I had to hire her.  I took an acting workshop with him and know he is very picky about who he hires on his team.  Jennifer and I spoke on the phone and although she is based in Mississippi, she was willing to drive to El Paso for the production because she liked the script so much.
I'm not exactly sure how Andrew found our Key Makeup / Key Hair / Costume Supervisor, Ronnie.  I'm just glad he found her.  She and her assistant Henry worked such long hours and helped every department.  I really adore them and keep asking Ronnie to move to Los Angeles.
Our Assistant Director Stefon and Key Grip Eric are my friends from Los Angeles.  I couldn't find
locals for these roles and I have worked on more than one project with Stefon and Eric and know their work ethic so I felt more secure having them on the team.
Carlos, our Sound Mixer, joined the team a couple hours after we had already started filming.  There was a communication issue with our prior sound mixer.  Carlos was listed on the El Paso Film Commission directory and I am so glad I didn't freak him out with a panicked 6am phone call.  I've found out that things always happen for a wonderful reason … Carlos is more than a sound mixer, he is also an award winning filmmaker, and I can't wait to collaborate with him on projects.
Some people advise against posting on Craig's List, but I've had pretty great luck finding great people through it.  On Odessa, my "Craig's List Greats" are Michael Rushton (our Still
Photographer) and Jamie Medrano (our 1st Assistant Camera).  They are so professional!  And check out their websites to see their talent!
Michael Charsky was not one of our crew members per se.  He is the location manager for Indian Cliffs Ranch and I'm not sure how Andrew found him but I'm glad he did.  Not just because I dig Mr. Charsky's style (his clothes, hat, boots, beard, pipe, gun, jeep) and the books he reads and listening to his stories about the sets he has worked on.  He totally drilled me about safety on set.  And he provided creative input.  I really appreciate everything he did for us.
I thought finding a local animal wrangler would be difficult because the film commission websites
did not have anyone listed in El Paso.  Thank goodness for google.  Susie is based in Las Cruces NM, which is just an hour away.  It was important to find someone local because we were very low budget and shipping horses would have been expensive.  Yet we also couldn't just rent a horse from a local ranch – we had to make sure they were trained for filming.  Safety first!  Susie, her assistants, and her horses are so professional, and I would recommend Susie to anyone.  I don't know if Susie was thinking ahead or if it was just part of the movie making magic, but one of her assistants, Laura Mandell (an award winning horse riding competition gal) is exactly my size and we had the same hair length.  There was a narrow section on a cliff and Susie strongly argued against me riding the horse there.  It was easily handled with Laura becoming my double.  Also, Susie always provided creative input to Sean and Doug by letting them know how she thinks a horse would react in certain places of the script.
The rest of the team members are friends of our dear Anthony.  He's such a great person that he attracts great friends.  Lorena Mojica is one of the best Script Supervisors I've worked with.  She was constantly right there, taking notes, pointing things out to Sean right away.  Her twin sister Marisa Mojica is an actress and thought she was just going to be a stand in, but she ended up being a wonderful 2nd AC.  Our PA's, Arcye Evans, Lucius Morton, Ulises Cosio, Anthony Aguila, Cesar Meza, worked so hard running errands, moving sets, digging holes in the
ground, etc.
PRODUCTION DESIGN
Question: How was your experience working on "Odessa"?
A by Art Director Richard Glass:  The one thing I did want to comment on was the cleverness and creativity I saw by all the participants –making something from nothing, or as they say, "taking
chicken shit and making chicken salad".  It is an amazing thing when a group of artists come together in harmony and cooperation and work together on something, and then God comes down and adds a little more–that little something extra that no one individual can take credit for, yet there it is.  Particularly, when we were at the finish line and Grace gave that wonderful performance next to a cold bed, with lighting wizardry making us think it was daytime, and just enough set dressing to fool the audience completely.  Those are the moments when all the efforts are rewarded, when an artistic triumph happens and you almost pinch yourself in disbelief.  Try and explain it to a non-artist.  For me, those moments are what life is all about.
COSTUME DESIGN
Question: How was your experience working on "Odessa"?
A by Costume Designer Jennifer Schreck: I was thrilled when I was brought onto the project.  When the script finally revealed the reason behind Estrella's journey, I had tears in my eyes. In costuming this project I really had to think on what would make the most sense for each character and getting into their head was my favorite part. The story is gritty and the landscape harsh so it was a fun challenge to get the costuming distressed in such a way that it looked natural and showed the
hardship these characters faced on daily basis. I was able to work closely with the makeup artist and combine our ideas (and pigment dirt) to make sure the makeup and costuming each had the same look and color palette and the overall result looked great on camera.
PHOTOS FROM ATTENDING FILM FESTIVALS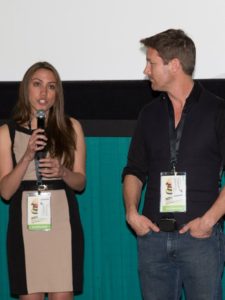 ODESSA CREDITS
Director | Sean Michael Turrell
Writer & Producer | Doug Johnson
Producers | David Moscow, Grace Santos Feeney, & Andrew Shebay
Cinematographer | Stephen Chung
Editor | J Deschamps
Music Composer  | Luis Romanos
Cast | Estrella | Grace Santos
Cast | Victor | Ricky Wayne
Cast | Sam | Will Haze
Cast | Agent Corrado | Anthony Escobar
Cast | Sophia | Isa Rubio
Cast | Agent | Manny Rubio
Cast | Border Patrol | Lucius Morton, Cesar Meza, Alfonso Orenday, Ralph Dimauro
First Assistant Director | Stefon L.C.
Art Director | Richard Glass
Costume Designer | Jennifer Schreck
Key Makeup, Hair, Costume Supervisor | Veronica Barajas
Production Sound Mixer | Carlos Corral
Script Supervisor | Lorena Mojica
First Assistant Camera | Jaime Medrano
Second Assistant Camera | Marisa Mojica & Joseline Segovia
Still Photographer | Michael Rushton
Assistant Makeup/Hair/Costume | Henry Castillo
Assistant Costume Design | Phillip Schreck
Set Construction | Black Out Signs
Production Assistants | Arcye Evans, Lucius Morton, Ulises Cosio, Anthony Aguila
Animal Wranglers | Susie Whelpley, Laura Mandell, Lanie Whelpley
Colorist | Ernesto Joven
THE FILMMAKERS WISH TO THANK
Mr. and Mrs. Shebay   /   El Paso Film Commission   /   Escobar Ranch   /
Red Sky Ranch and Stella   /   U.S. Border Patrol   /   Linda Isrel and SAG-AFTRA
Indian Cliffs Ranch, Cattleman's Steakhouse, and Michael Charsky   /
Sunland Park Sherriff's Office   /   Sierra Blanca Sherriff's Office
Camera Cranes & Dollies by Chapman Leonard Studio Equipment Inc
Lighting and Grip Equipment by Wooden Nickel Lighting Inc
Arri Alexa and camera support equipment courtesy of Brain Box Cameras
Late Night Cinema
© copyright 2014 Ethos Pictures LLC
STELLA! Our beautiful horse: